Services
Why Choose BR?
---
Here at BR Estate Agent, we aim to ensure that when selling your home you get the best possible approach that is flexible to your needs.
Selling property isn't just about listing property and waiting for the enquiries to come through. We pride ourselves for being pro-active and efficient promoting property in the best possible light
From start to finish you will be guided through the process of selling your home, providing the best one-to-one service, making the process of selling more straightforward and stress free.
Unlike most other agents, we are open 7 days a week, from 9am till 9pm. Being available until this later time means that, after a busy day, you have time to chat and to catch up on the progress of a sale, feedback from a viewing or even to accompany a viewing.
This personal touch, combined with local knowledge and experience, with the use cutting-edge PropTech such as 360° Virtual Reality Video Tours serves BR Estate Agent best to showcase and sell your property.
BR Estate Agent offers a no tie in period, on a no sale — no fee basis for all our clients which means we have to hit the ground running from day 1.
Services include:
We provide In-person or video valuations which include a personalised interactive client presentation, backed-up with on market and sold comparable properties, market trends and a recommended marketing strategy to sell.
Free Probate and Re-Mortgage Valuations
A dedicated property professional to provide a one-to-one service representing you and your home from valuation, creating marketing material, generating and accompanying viewings, handling offer negotiations and vital after sales progression, assisting you and your buyer through the mortgage and conveyancing process right up to completion.
All our properties are advertised on online portals such as Rightmove, Zoopla. OnTheMarket, PrimeLocation and Boomin, offering maximum and effective exposure



Bespoke marketing to include high resolution professional photography, a Virtual Reality 360° video tour, sophisticated doll's house floor plan and Energy Performance Certificate (at no extra cost)
BR is open, contactable and all viewings accompanied 7 days a week from 9am till 9pm
Feedback and regular reports highlighting changes in the market.
A no risk, no sale, no fee structure, and there is no minimum contract period or upfront or extra costs for added services.

Property Presentation
---
Marketing your property using a video tour will generate over 4 times more interest than using standard 2D imagery.

Potential buyers are shown to be more engaged resulting in 60% more enquiries, better quality viewings and a higher price achieved on your property.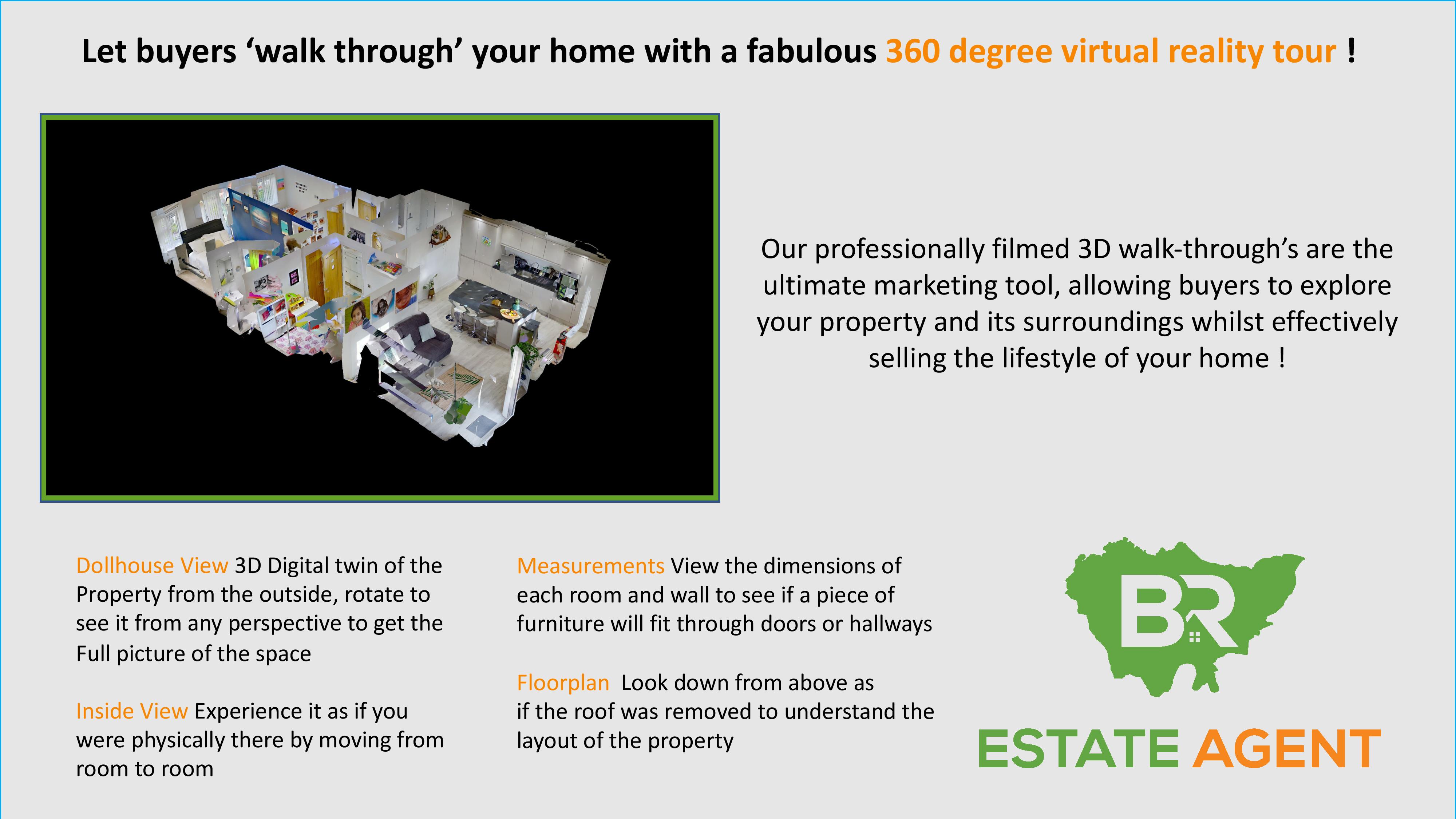 Open Days
---
Why not instruct BR to sell your property on one of our expertly managed Open Days?
What are Open Days?: Rather than have potential buyers coming round and viewing the property by appointment over several weeks or months, you can get a whole block of viewings done at once so you only have to get your home looking its best for that day.

Open days take place on a Saturday between 9am – 6pm with any second viewings that need to be arranged taking place on Sunday. Viewings are arranged strictly by appointment only, giving enough time for each prospective buyer to be shown around individually while being able to answer any questions they may have.

Buyers are then notified of a reasonable date and time to put forward their offer. This gives urgency to buyers to make a decision quickly, while encouraging them to make their best offer possible. For the seller, this means the best possible chance to sell your property quickly, for the best possible price, and to sell to the buyer in the best position offering the most suitable timescale.